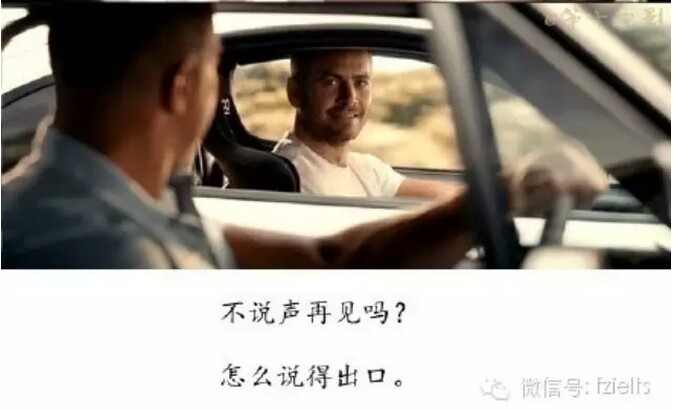 Topic
A Movie/Film You Enjoyed and Would Like to See Again
标准素材
A film I enjoyed and would like to see again is a newly-released movie called Fast & Furious 7, which is the seventh installment (部分)of the infamous Fast & Furious series. The film has an all-star cast including Vin Diesel, Jason Statham, Dwayne Johnson and the late Paul Walker.
Although this movie is a tribute to Paul Walker's legacy, who died in a tragic car accident at the end of 2013, it keeps in line with the theme of frenetic car chases and illegal heists, which captivate the attention and interest of moviegoers all over the world.
I had the opportunity to watch this movie in a local movie theatre last weekend with my friends, since we wanted to see what all the hype was about. The special effects in this film are top notch and the car races are visually spectacular.
Without giving away too many spoilers, the plot of the story involves Dominic Toretto and his crew believing they have left their criminal lives behind after their last mission. However, a new enemy is set on obtaining revenge and tries to hunt down the crew. There are also terrorists attempting to steal a computer program that can turn any technological device into a weapon.
I certainly recommend this film due to its meaningful themes and valuable lessons. I genuinely hope to watch this highly-rated movie again because it portrays a deep story, requiring thought and deliberation. I sincerely look forward to seeing the eighth installment of this film.
(250 words)